My clients latest blog posts
I blog for my clients every single week. Mostly I edit their raw thoughts, but sometimes I write original posts for them and, occasionally, I recycle something popular.


Steffi And The Need For Urgent Weightloss

Ok, I'll admit it ... I am vastly overweight. And it really does take a true friend to raise the issue of much-needed weightloss with me ...


Steffi Lewis

16th March, 2018






How Far Does Your Blog Post Go?

I got an email from one of my clients on Friday telling me some brilliant news and that it was because of her blog that it happened ...


Steffi Lewis

14th March, 2018




The Power Of ESET Endpoint Security

We're pleased to offer the very latest ESET Endpoint Security, a combination of both powerful encryption and anti-virus ...


Max Roberts

12th March, 2018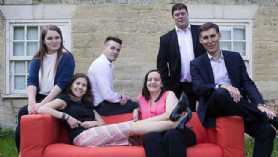 Want To Pop In For A Chat On Our Sofa?

The new tax year is approaching and if you're looking for a new firm of accountants to work with, why not pop in for a chat on our sofa?


Roger Eddowes

12th March, 2018



The New AFA Website Is Live!

It's been a busy few weeks for us, as we've been working hard on the new AFA website. I'm delighted to say that it is now live ...


Claire Robinson

9th March, 2018

Planning + Marketing x Effort = Success

Business owners are short on time and must prioritise the important tasks. However, many get caught up working in the business ...


Kirsty Parris

9th March, 2018


Towing Mirrors And UK Law

Towing mirrors are an important safety aid when towing a caravan. But so many people seem to disregard these vital rules ...


Big White Box

8th March, 2018




Blogging: How Shallow Is Your Business?

After a hard day's development, I'd just eaten a lovely homemade Chilli and was choosing a film to wind down from a full-on, awesome day ...


Steffi Lewis

7th March, 2018



Magic Workshops In 2018

Just to remind you all that I run magic workshops from our offices at Olney, or I can come to you, of course. I do travel all around the UK ...


David Pibworth

6th March, 2018





Business Is So Very Personal

Driving your business forward is not easy. What does your business have to look like to give you what you want from life?


Kirsty Parris

2nd March, 2018