My Clients' Latest Blog Posts
I blog for my clients every week. Mostly I edit their raw thoughts, sometimes I write original posts and, occasionally, recycle something popular. Here are the latest sixty blog posts I've created and published for them



Get Feedback, Get Better!
Be honest, do you like getting feedback? I don't, I know I need it, but it doesn't mean I like it ...
Debra Stevens

18th July, 2019






Meet The Artists: Gill And Scott
We have such a colourful and vibrant program of buskers and performers that decorate Centre:MK ...
Black Sheep Collective

12th July, 2019

Customer Retention Strategies
Some businesses are so focused on winning new clients they often neglect to put any effort into retaining them ...
Kirsty Parris

12th July, 2019
Change Your Mindset, Change Your Life!
Before I give away too much, answer the following questions using the following words: never, occasionally, often, always ...
Debra Stevens

11th July, 2019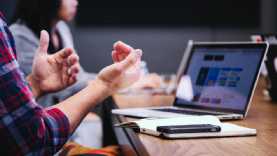 5 Ways To Signal You're Trustworthy
An essential part of giving and receiving referrals is building enough trust between you and those you network with ...
Jacky Sherman

10th July, 2019






The Rise Of The Human Robot!
Since Sci-Fi books, films and TV became mainstream in the 50s, we have wondered if robots would take over the world ...
Debra Stevens

4th July, 2019

The Power Of Why
Ever look at your to-do list in despair? Ever feel like you're wading through treacle? If so, you need to understand the power of why ...
Ellen Willoughby

4th July, 2019







Filling In The Gaps In Your Business
Being a business owner is like being on a rollercoaster ride. It can be exhilarating, but there are times when you want to get off ...
Kirsty Parris

28th June, 2019









How To Build A Successful Network
If you want to be successful, it is important to develop an inspiring network of people who can help you ...
Debra Stevens

20th June, 2019


How To Cash Out Your Contractor Company
Entrepreneurs are either starting or growing their business, but what happens when you want to cash out your contractor company?
Jonathan Vowles

18th June, 2019

A Closer Look: My Blog Writing Add-On
The heart of any good blog post is the words. I ask my clients to send in their raw thoughts, but some can't find the time ...
Steffi Lewis

17th June, 2019

How To Be A Successful Blogger
Although being a blogger is only a small part of what I do, I rather enjoy it. So, how to be a successful blogger then? Read on, Macduff ...
Steffi Lewis

17th June, 2019